Looking for a perfect Mother's Day gift idea from a kid? Paper crafts can be a great homemade gift option that is easy, affordable, and thoughtful. With just a few simple steps, kids can create a special and personalized gift for their mom using paper. In this article, I'll show you how to make a Mother's Day gift from a kid with paper that she'll treasure forever.
First, gather all the necessary materials, such as colored paper, scissors, glue stick, and markers or colored pencils. Next, choose a paper craft idea that your kid likes, such as a paper flower bouquet, a pop-up card, or a 3D paper picture frame. Then, follow the step-by-step instructions to create the craft, personalized with your kid's message or artwork.
With these simple steps, you can help your kid create a unique and heartfelt Mother's Day gift that she will cherish. Not only will it show how much you and your kid appreciate her, but it will also be a fun and engaging way to spend quality time together creating something beautiful. So, let's get creative and start making a memorable Mother's Day gift from a kid with paper!
How to Make a Mother's Day Gift From a Kid With Paper
Mother's Day is a special occasion to show appreciation and gratitude to all mothers for their love and care. As a kid, making a handmade gift is a heartfelt gesture that your mother will cherish forever. Here are some ideas on how to make a Mother's Day gift from a kid with paper:
1. Homemade Cards
Making a card is an easy and fun way to show mom how much you love her. All you need is paper, scissors, markers, and some creativity! Cut a piece of paper in half and fold it in half again to create a card. Decorate the front of the card with drawings, stickers, or even a photo of you and your mom. Inside, write a personal message telling your mom how much you appreciate her.
2. Paper Flowers
Flowers are a classic Mother's Day gift, but why not make them from paper? With some colorful paper and pipe cleaners, you can create beautiful blooms that will last forever. Cut the paper into petals and use glue to attach them to the pipe cleaner stem. Arrange the petals to form a flower and add leaves if desired.
3. Paper Jewelry
Create unique and stylish jewelry using paper! Cut strips of paper and use a hole punch to make holes on each end. Link the strips together to create a paper chain necklace or bracelet. You can even make paper beads by rolling strips of paper and gluing the end to secure it.
4. Picture Frame
Make a special picture frame for your mom using paper. Cut out a rectangular shape from cardboard and then cover it with colorful paper. Add drawings or stickers to decorate the border of the frame. Finally, add a photo of you and your mom to complete the gift.
These easy paper crafts are a perfect way to celebrate and appreciate your mom on her special day. Get creative and have fun making a special gift that she will cherish for a long time.
Kid-Friendly Mother's Day Gift Ideas
Mother's Day is one of the most important days of the year to celebrate our amazing mothers and all the hard work and love they put into raising us. And what better way to show our love and appreciation than with a handmade gift? If you're looking for some ideas on how to make a Mother's Day gift from paper, look no further! Here are a few simple and fun ideas to get you started:
Paper Flower Bouquet
A classic gift that's sure to put a smile on any mother's face is a bouquet of flowers. And what's better than flowers that never wilt or die? To make a paper flower bouquet, all you need is some colorful construction paper, scissors, glue, and pipe cleaners. Simply cut out flower shapes from the paper, using different colors for variety, and attach them to the pipe cleaners with glue. You can also add some green construction paper leaves to give it a more realistic look. Arrange the flowers in a vase or tie them together with a ribbon for a cute and simple gift.
Paper Jewelry
For mothers who love accessories, try making some paper jewelry! You can make paper beads by cutting long, skinny triangles out of colorful paper and rolling them up tightly. Secure the end with a dab of glue and string them onto some elastic cord to create a bracelet or necklace. You can also decorate the beads with markers or paint for some added flair. If you have any leftover paper, try making some earrings or a paper pendant to complete the set.
Handmade Cards
Sometimes the simplest gifts are the most meaningful, and a handmade card is the perfect way to express your love and appreciation for your mother. To make a card, fold a piece of construction paper in half and decorate the front with drawings, stickers, or even a photo. Write a heartfelt message inside, telling your mother how much you love and appreciate her. She'll be sure to cherish this gift for years to come.
These are just a few ideas for how to make a Mother's Day gift from paper – the possibilities are endless! Remember, the most important thing is to put time, effort, and love into your gift, and your mother is sure to appreciate it.
DIY Paper Flower Bouquet for Mom
Making a DIY paper flower bouquet for mom is an excellent way to show your creativity and love. It is a perfect gift idea for Mother's Day, and it does not require a lot of materials. Here is a simple guide on how to make a beautiful paper flower bouquet for mom that she will adore:
Materials Required:
Colored craft paper
Scissors
Craft wire
Glue
Pencil
Ruler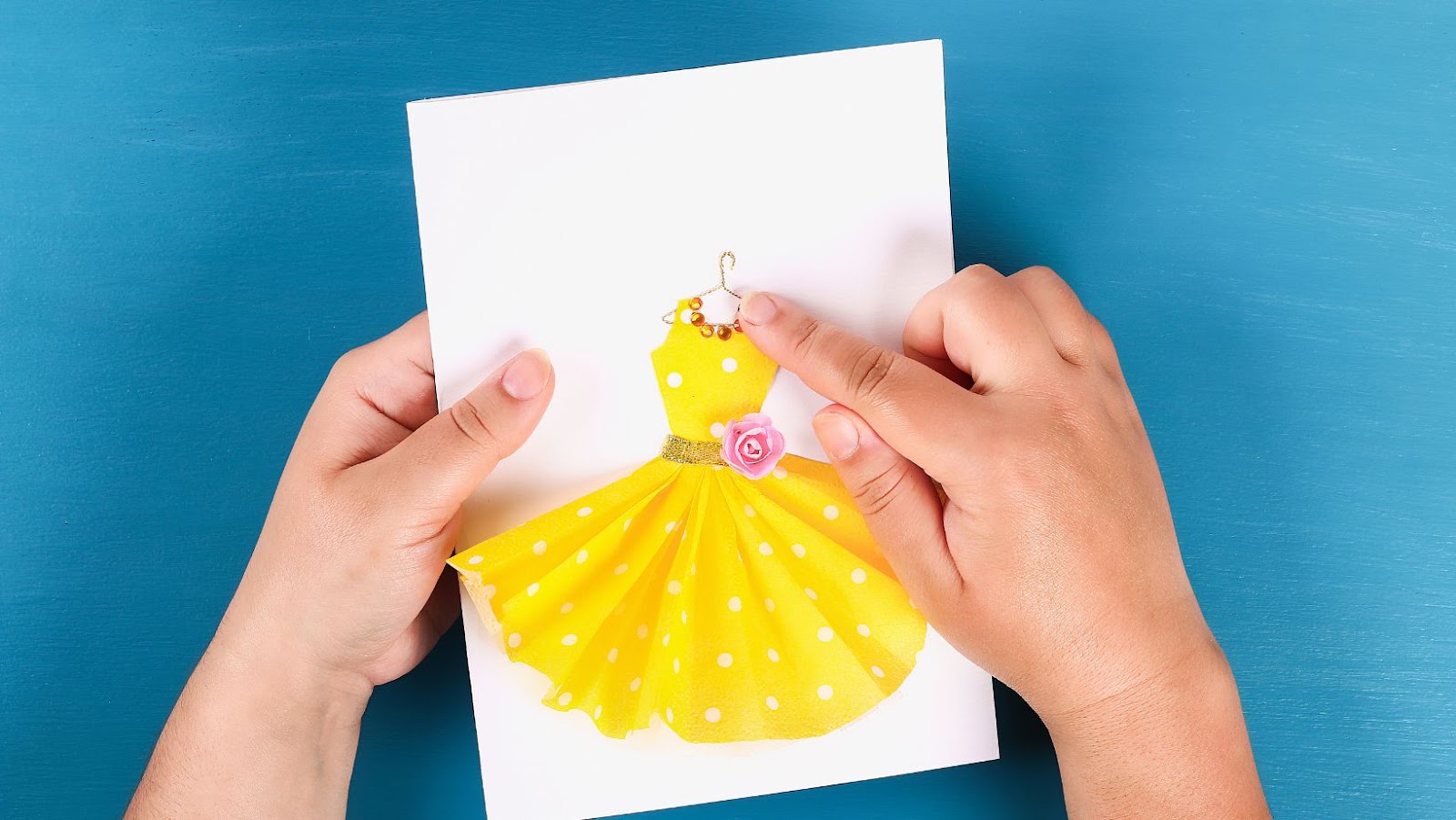 Step-by-Step Guide:
Cut the craft paper into small square pieces, roughly around 4 inches in size.
Fold each piece of paper diagonally, forming a triangle shape.
Take the bottom right corner of the folded triangle and fold it upwards towards the top point of the triangle.
Next, take the left corner and fold it over the previous fold, making sure the two folds meet at the center base of the triangle.
Repeat this step until you have folded the entire paper into a triangular shape.
Cut off the excess paper at the top of the fold to form a petal shape.
Unfold the paper to reveal a flower-shaped pattern.
Repeat steps 2-7 to create multiple paper flowers.
Next, use a pencil to make a hole in the center of each paper flower.
Thread a craft wire through the hole in each paper flower and twist the wire to secure it.
Use glue to stick the paper flowers together, creating a bouquet.
Wrap the craft wire stem with green craft paper to give it a more natural look.
There you have it! A beautiful DIY paper flower bouquet that is sure to bring a smile to your mom's face. It is an affordable and creative way to make a Mother's Day gift from a kid with paper.