Get the latest and greatest Sims 4 House Layouts & Blueprints for the year 2023 so your Sim House is always up to date!
Lets look at House Layouts from the Build Mode.
The Sims 4 Build Mode is an effective tool for designing the ideal house. This mode lets you to construct any place exactly as you want it, with the flexibility to build anything from little dwellings to castles. Whether you're new to The Sims 4 or an old hand, this tutorial will help you design your own home plan. It's simple to design a unique living place that properly meets your Sim family's requirements by starting with a concept and mastering the fundamental tools of The Sims 4 Build Mode.
We'll also look at some of the most popular house plans and designs for The Sims 4 in 2023, to get you inspired and help you select the perfect blueprint for your Sim's home:
So how can you get these Sims 4 house layouts?
If you're seeking for the most recent and up-to-date Sims 4 home plans for 2023, here is the post for you. Sims 4 houses are gaining popularity as players attempt to make their virtual homes as attractive and distinctive as possible. The game lets users to create and construct their own residences, personalizing every detail to their liking.
However, designing a one-of-a-kind home from scratch is not always simple, which is where pre-made blueprints come in. These are Sims 4 house designs created by skilled designers that may be used by any player wishing to build a beautiful and functional home. All you need to do is download them and follow the directions to achieve the ideal layout for your virtual house.
Where can you find the house templates menu?
The Sims 4 has a home templates menu in the main game. To get to this menu, go to the in-game map and then click on the home symbol. You will then be led to an overview of all your homes, where you may locate and pick from a selection of pre-made houses, or utilize the house templates menu to construct your own personalized one.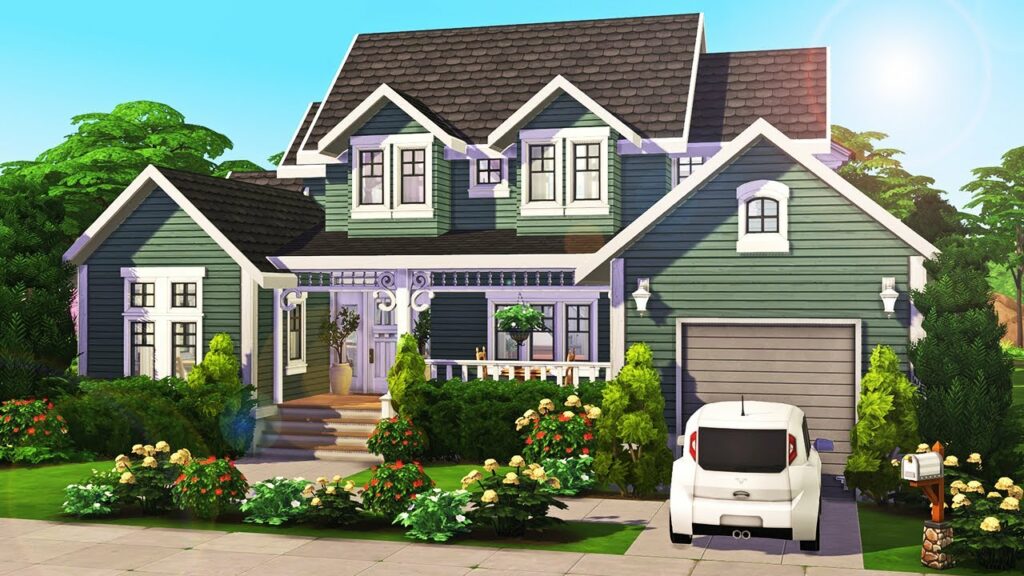 The house templates menu provides a variety of pre-made alternatives for your Sims 4 home, including starting homes, family residences, contemporary flats, and luxury estates. These layouts may also be customized with various furniture and décor choices. Additionally, extra stuff from The Sims 4 Gallery may be downloaded and installed. All of this makes it much simpler to swiftly set up your ideal house.
You have spotted a template you love and want to build. Where do you begin?
Once you've found a template or blueprint for a home plan you like, you may start constructing it in your Sims 4 game. The first step is to store the template someplace handy on your computer after downloading it from the website where you obtained it. Once downloaded, launch the game and choose Build/Buy mode from the main menu.
In Build/Buy mode, click "Import/Export" from the upper left corner of the screen and then pick "Import Lots". From here, you can find the saved template and begin incorporating it into your game.
The next step is to choose all of the components that will comprise your home plan. This is accomplished by scrolling through each category, such as walls, floors, windows, and doors, until all of them have been picked. Once all of the pieces have been picked, click the "done" button in the upper right corner of this window, and they will appear in Build/Buy mode, ready for placement in your game.
Finally, in Build/Buy mode, begin arranging each element until your home plan is complete. Return to Live Mode to observe the Sims move into their new house.
How long does it take for the house template to be constructed?
The time it takes to build a home template is determined by the design's intricacy. A simple home plan with no substantial structural adjustments may usually be finished in a few days. A sophisticated template, on the other hand, that needs significant changes may take many weeks to complete.
The actual building timeframe is determined by various elements, including:
the size and complexity of the project
the availability of materials required to finish construction
weather conditions
topographical characteristics
other considerations
Other variables, such as schedule problems or unexpected issues, may also add time to any construction project. As a result, in order to build an appropriate timeframe, it is critical to understand all factors before commencing a project.
Build your Sims 4 House
Building your Sims 4 house may seem to be a daunting endeavor, but with proper planning and resources, you can build a beautiful and distinctive home. Take the time to map out the sort of house you want before you start building. First, choose the size of your property and get acquainted with The Sims 4's construction tools.
There are many updated home plans and blueprints for 2021 available from many sources to help you get started with your own design ideas. Living rooms, kitchens, baths, bedrooms, garages, porches, and decks are all included in house designs, so you're likely to discover one that suits your needs. Using these ready-made designs as a starting point makes it simple to turn your Sims' fantasy house into a reality. Take it a step further by changing the color palettes or including additional facilities such as a swimming pool or outdoor kitchen. Put all of those adjustments together, and there you have it. You've built a gorgeous Sims 4 home that meets all of your requirements.
Faq
Questions and Answers FAQs are an excellent resource for learning more about the Sims 4 House Layouts& Blueprints for 2023. FAQs may give thorough information on a variety of issues, such as the many kinds of home layouts available, how to buy and download the plans, and what to do if you need assistance or have technical problems. They also often contain useful advice and recommendations on choosing and implementing the designs.
FAQs are essential for keeping customers up to speed on all areas of Sims 4 House Layouts& Blueprints for 2023. They may assist customers in making educated judgments when selecting layouts, give direction on making adjustments or updates to existing plans, and provide assistance if any technical difficulties emerge during the downloading or usage of the plans. FAQs also make it simple to contact customer support personnel if extra assistance is required.
Checkout this video: